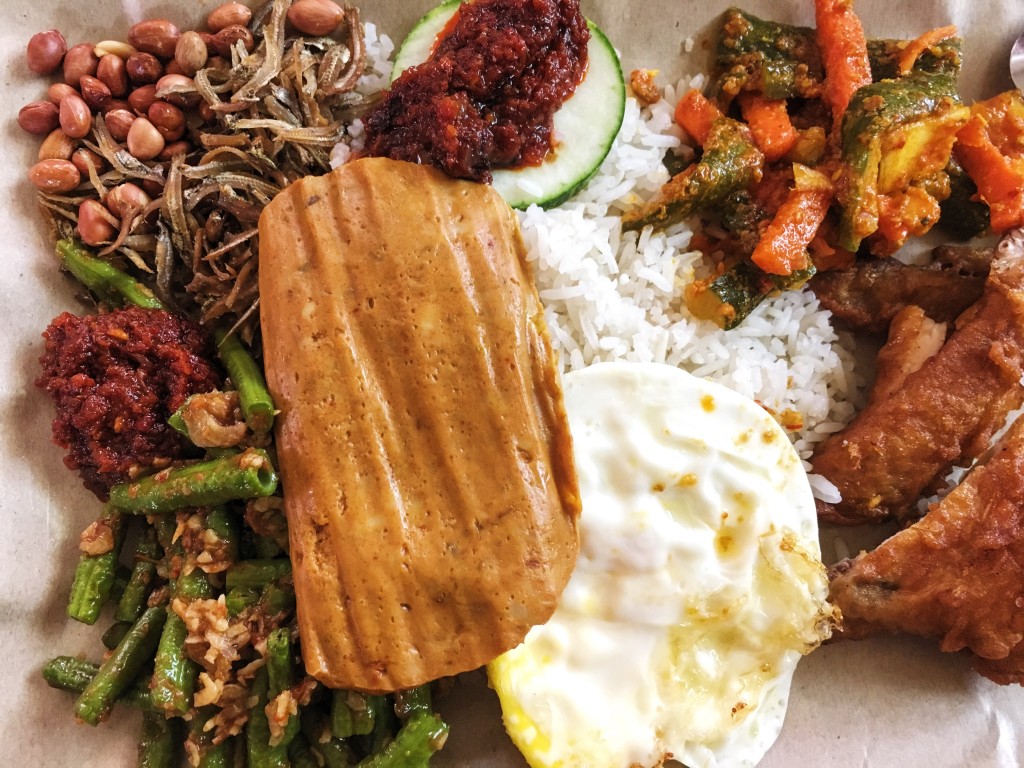 Description
Nasi lemak is Malay for "rice in cream", a reference to the rice being cooked in coconut milk, or "richly flavoured rice". The rice is lightly salted and made fragrant with a knot of pandan leaves added while the rice is still cooking. It is the ordinary man's breakfast, traditionally served with fried fish known in Malay as ikan selar kuning, ikan bilis (anchovies), kangkong (water spinach) and a dollop of sambal (a type of chilli paste). The fish is fried so crisp that it can be eaten whole. Nowadays, the anchovies are fried with salted peanuts, the dish topped with thin slices of cucumber and a fried or boiled egg. The rice and all its condiments and side dishes are kept warm in a banana leaf folded into a conical pocket.
The sambal is the dish's signature condiment. Malays prefer their rice with sambal ikan bilis (chilli paste made of local anchovies) or sambal tumis (fried chilli paste). The sambal is a combination of dried chillies, shallots, garlic and belacan (shrimp paste), sometimes with sliced lemongrass added. Sugar and tamarind give the chilli sauce a sweet and tangy taste.
The rice is traditionally steamed, because if it is cooked over a hot fire, the coconut milk can easily burn. Modern cooks use a rice cooker and replace water with the coconut milk instead. Some secrets to making good nasi lemak include cooking the rice partially the night before, then adding the coconut milk and pandan leaves the following morning to complete the cooking process.
The dish remains one of the cheapest meals offered in local food courts and hawker centres. While many stalls sell the dish as a set meal with the basic accompaniments, others offer a wide variety of side dishes that can be added to the order.
Origins
It is believed that when the local Malay community resided by the seafront, the ready availability of ingredients such as the coconut, as well as the flavourful outcome of adding it to rice, resulted in the innovation of nasi lemak. Side dishes added to the rice came from the village's natural resources: kangkong was plucked from the garden and anchovies were harvested from the sea. Others suggest that packets of rice wrapped in banana leaves were brought to padi fields (rice fields) for working farmers to consume. In Malaysia, nasi lemak is also sold at transient road side stalls or even from vans. Today, it is a popular dish eaten not only at breakfast, but also throughout the day.
Jemie's Favourite:
Ponggol Nasi Lemak
Address: 371 Jalan Besar #01-01, Singapore 208998
Tel: 6293 0020
Operating Hours: 12:00 pm – 11:00 pm (Closed on Thursday)
965 Upper Serangoon Rd S(534721)
Tel: 6281 0020
Operating Hours: 5:30 pm – 3:30 am
238 Tanjong Katong Rd S(437026)
Tel: 6287 0020
Operating Hours: 5:30 pm – 2:30 am
Website: http://www.ponggolnasilemak.com.sg/
Source: NLB