On 20 August 1998, a week before a two-year-old Google become an incoporated company, founders Larry Page and Sergey Brin were heading to Burning Man festival. To mark themselves 'out of office' on their email signatures, they decided to overlay the famous Burning Man stick-figure on the Google logo (which then came with a Yahoo-style exclamation mark, as if it needed to announce itself). The idea lay dormant until 2010, when then-intern Dennis Hwang (now Google webmaster) was tasked with decorating the logo for Bastille Day, sparking eight years of marking important moments in history with a graphic, digital ephitaph. What started as an 'out of office' scribble has become an artform, celebrating Calder to Kadinsky; Zaha Hadid to Mies van der Rohe. It's one of the things that sets Google apart from other search engines. It searches with soul.
30th anniversary of PAC-MAN
21 May, 2010
'PAC-MAN seems like a natural fit for the Google homepage,' said Marcin Wichary, senior UX designer and developer at Google, in May 2010. 'They're both deceptively straightforward, carefully hiding their complexity under the hood. There's a light-hearted, human touch to both of them.' The Doodle, which he created with in-house 'Google Doodler' (as they have become known)​ Ryan Germick was the first-ever playable doodle, and was on the homepage for 48 hours, because, said Wichary, 'it's too cool to keep for just one day.'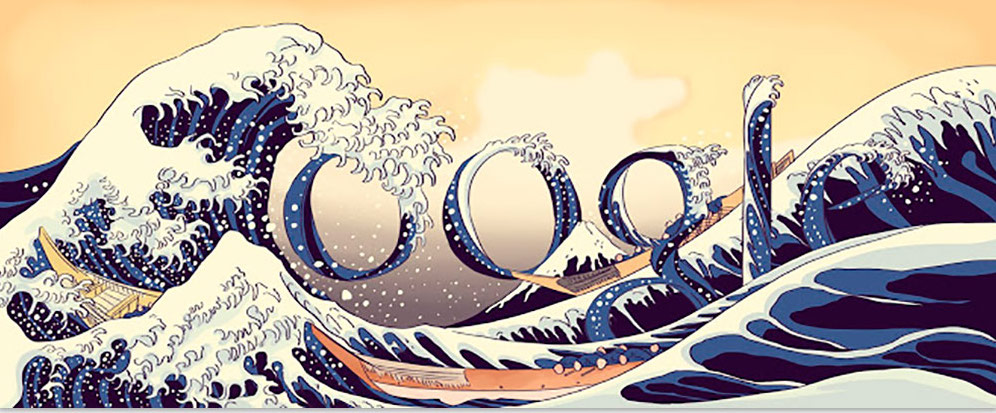 The Great Wave of Kanagawa
31 October, 2010
It's an odd thought: a 17th–century Japanese century woodcut going viral. 'The Great Wave' was first circulated the old-fashioned way, via traders and tall ships in the 19th century. Since then, it has inspired Claude Debussy's orchestral work 'La Mer', appeared in poetry and prose by Rainer Maria Rilke, and was animated by teamLAB at London's Pace gallery last year. Levi's and Patagonia used it in marketing campaigns. In 2011, it was preserved in cyberspace as a Google Doodle, and has since been turned into an emoji. Thanks, in no small part to the uncompromising powers of Google Search, it is an image that is as globe-spanning, and enduring, as the ocean itself.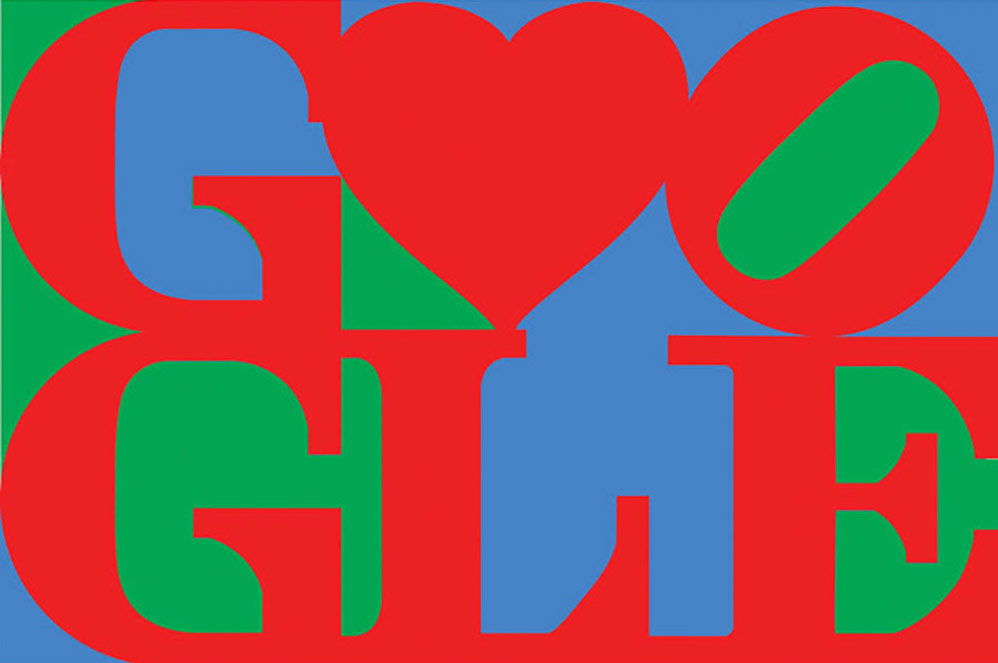 Happy Valentine's Day from Google & Robert Indiana
14 February, 2011
This iconic Doodle (if you can call it that) was created by renowned artist behind 'LOVE', and it broke the trend of month upon month of interactive doodles, reverting back to a simpler, stationary symbol. Robert Indiana – poster artist of pop culture – is no stranger to having his work seen in unconventional settings by millions: the US Postal Service carried reproductions of his works on stamps in 1973 as part of its 'love series', and he created a work for Barack Obama's Presidential Campaign depicting the word 'HOPE'.
Courtesy of the Morgan Art Foundation / ARS, NY

Keith Haring's 54th birthday
4 May, 2012
In 2012, one-time subway graffiti artist Keith Haring was presented on a different kind of much-trafficked wall. The late 80s pop artist, whose work currently fills the sky-lit lobby of Amsterdam's Stedelijk Museum, is here copied by in-house Google Doodlers. Widely recognised as creating his own visual language, his famous figures are here bent out of shape, to form a wobbly Google logo.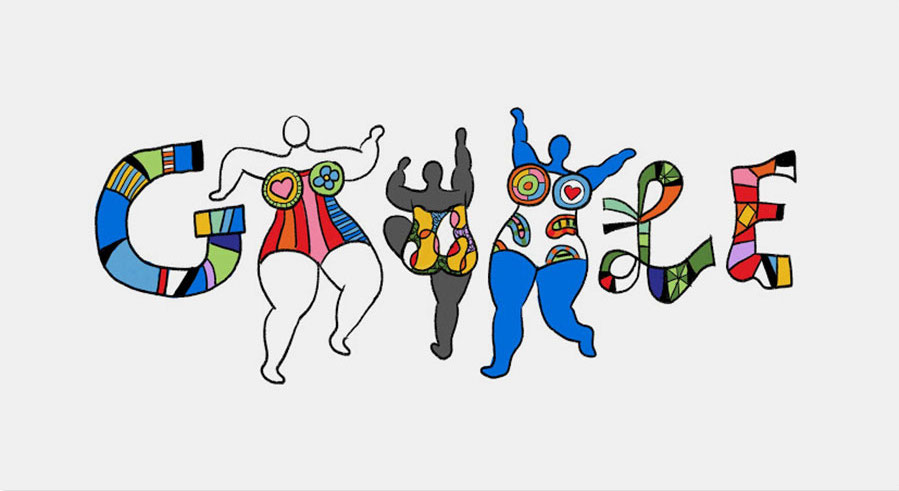 Niki de Saint Phalle's 84th birthday
29 October 2014
Niki de Saint Phalle's 'Nanas' took over the Google homepage for the French sculptress's 84th birthday in 2014. Inspired by her pregnant friend, the 'Nana' sculptures were de Saint Phalle's artistic rendition of the everyday woman and became a symbol of femininity. De Saint Phalle described her first 'Nana' house as a 'doll's house for adults, just big enough to sit and dream in.'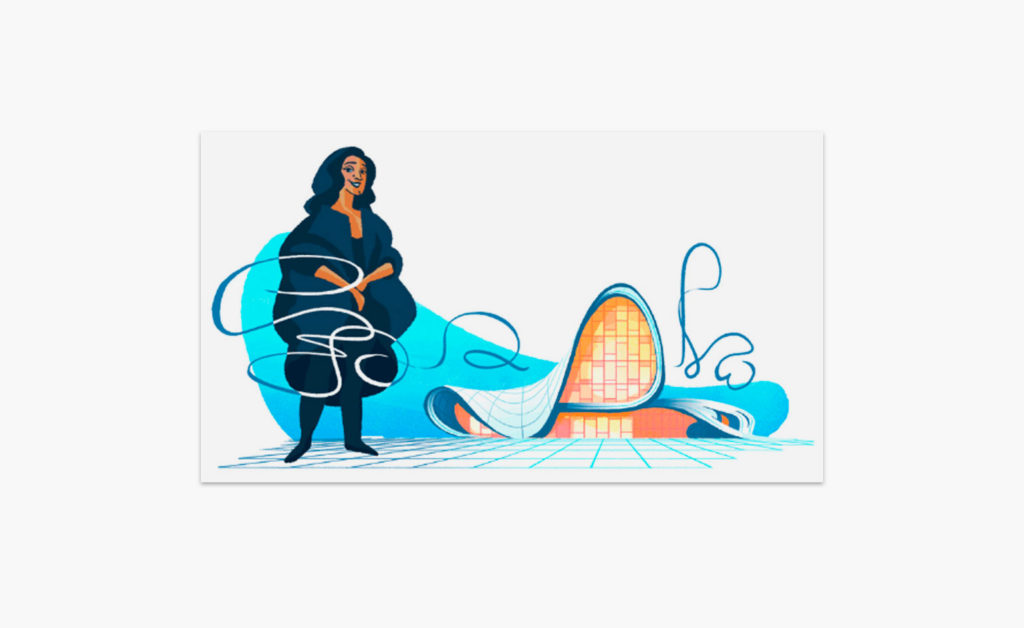 Celebrating Zaha Hadid
31 May, 2017
The Heydar Aliyev Center, depicted behind a cartoon-style portrait of the late, great Zaha Hadid, sets itself in contrast to the block-like structures that surround it in Baku, Azerbaijan. The architects' signature fluid style is captured in the endlessly curving lines of the drawing, and the almost-unreadable Google typeface. At the same time, this cultural centre takes inspiration from historic Islamic designs found in calligraphy and geometric patterns to create something entirely new. The building takes an open form to invite the public into its space. The centre has played host to modern art by Andy Warhol and Tony Cragg, and world-class performances from Kitaro and Alessandro Safina.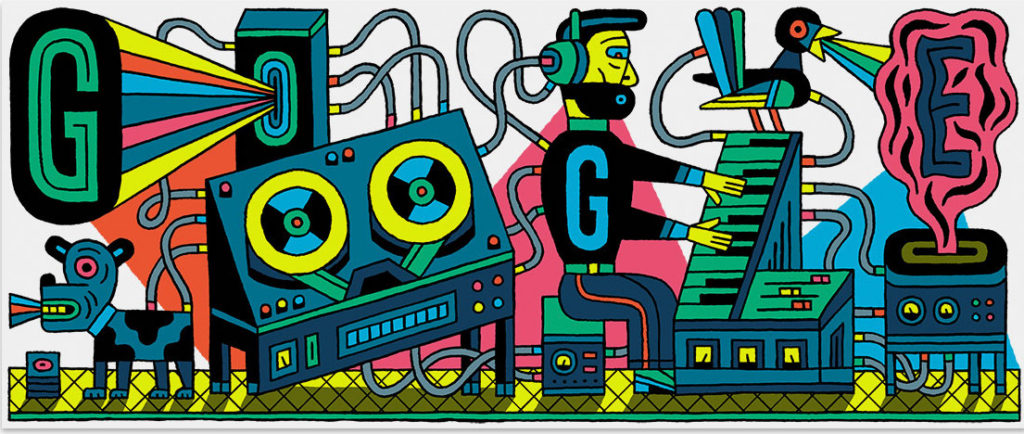 Celebrating the Studio for Electronic Music
18 October, 2017
Google felt the beat as it celebrated the 66th anniversary of the Studio for Electronic Music with this neon Doodle, by Berlin-based illustrator Henning Wagenbreth. It celebrates the noisy diversity of thought and imagination that built this studio, which was to transform the possibilities of music. Known as the first modern music studio, it became a haven for innovative musicians and producers from its base at the West German Broadcasting facility in Cologne, to the rest of the world.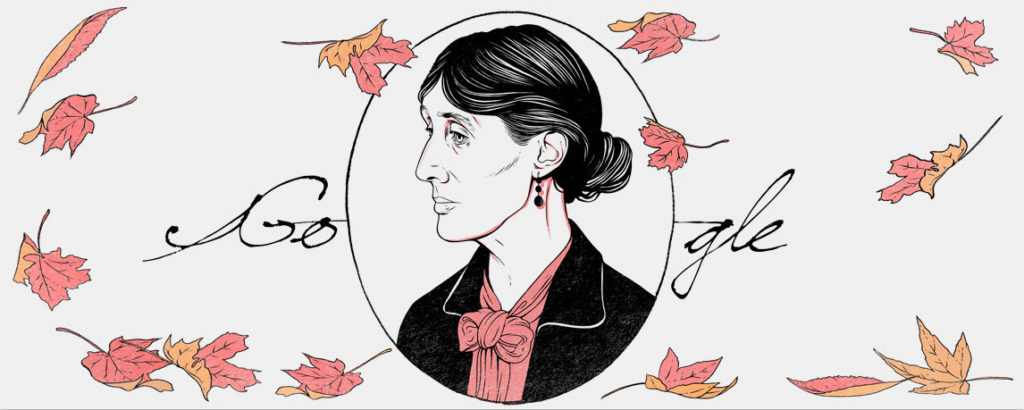 Virginia Woolf's 136th birthday
25 January 2018
Subject of many ponderous, self-absorbed English Literature dissertations (mine included), and subject of a new exhibition at Tate St Ives, Virginia Woolf is an icon of Modernist literature, and has sparked two centuries of artistic renderings. This year, a Google Doodle was penned by London-based illustrator Louise Pomeroy. It salutes with grace and symbolism Woolf's minimalist style. Not tonally disimilar to the bust found outside her Bloomsbury residence, the portrait is surrounded by falling autumn leaves (a frequent visual theme in her work). In Woolf's words: '​The autumn trees gleam in the yellow moonlight, in the light of harvest moons, the light which mellows the energy of labor, and smooths the stubble, and brings the wave lapping blue to the shore.'