OkCupid is DTF, but not like that.
The dating site rethinks that blunt old acronym, originally meaning "down to fuck," by making it the centerpiece of a new campaign from Wieden + Kennedy New York—with the F word replaced by dozens of enlightened alternatives, leading to phrases like "down to feel fabulous," "down to forget our baggage" and "down to fight about the president."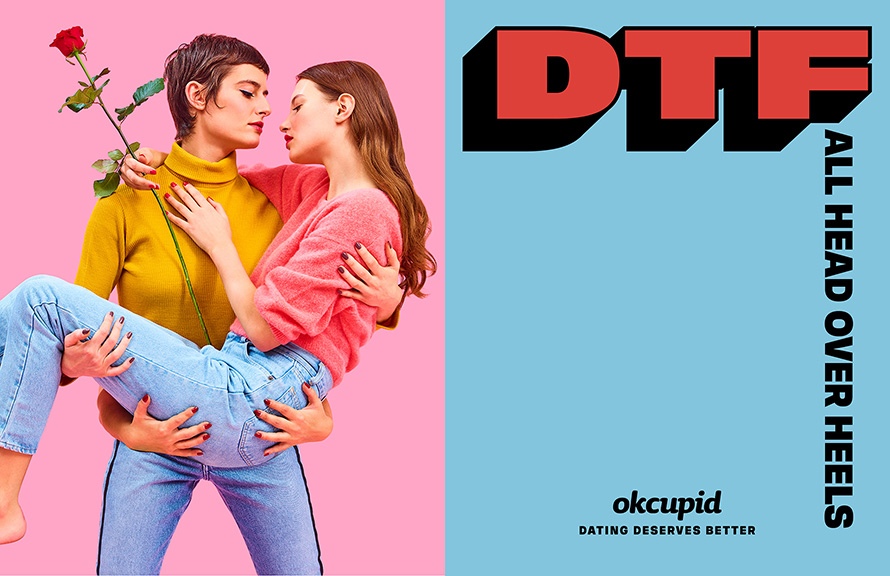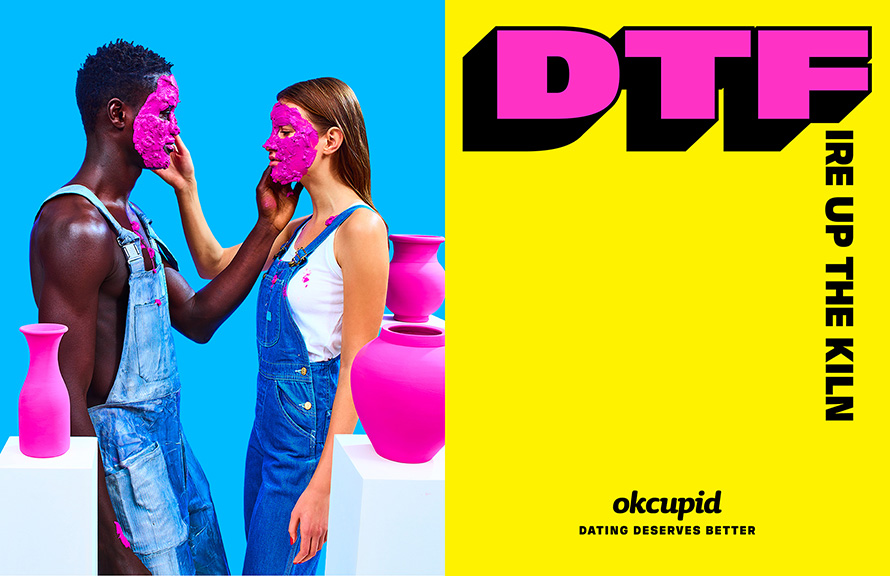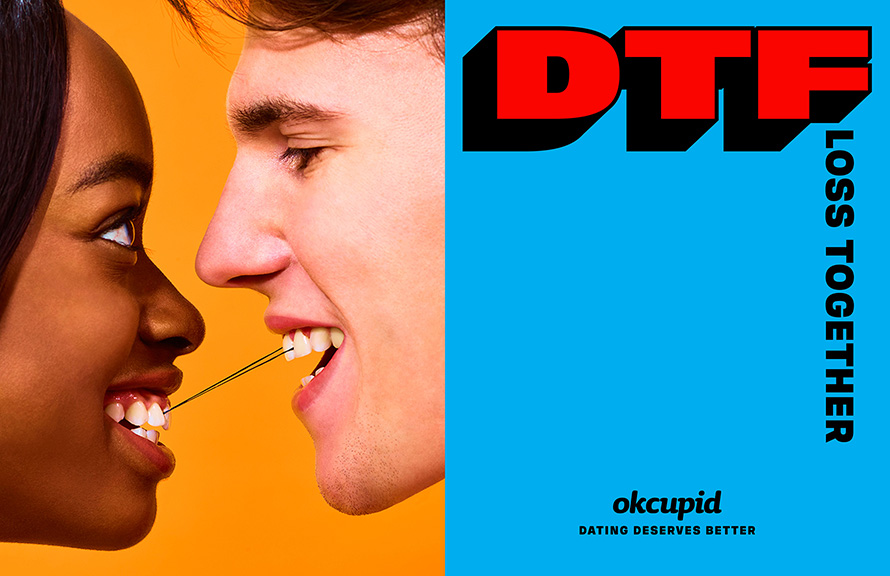 The point being: Dating can and should be about more than hookups. The tagline is, "Dating deserves better."
The ads are aimed at anyone who wants to bring their full selves to dating. But Hobley says they may resonate especially with women, who are "aware that the phrase DTF was used historically in a negative way. There's power in taking that back and making it yours."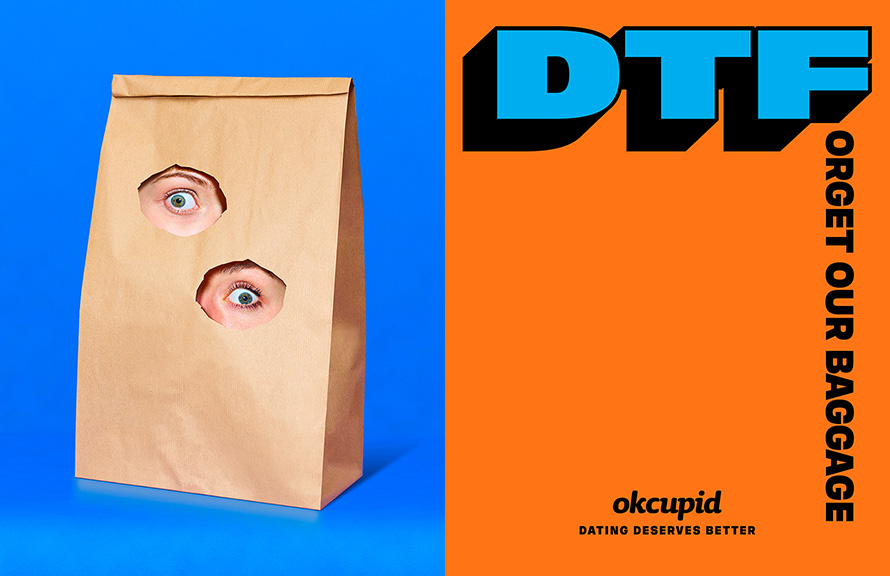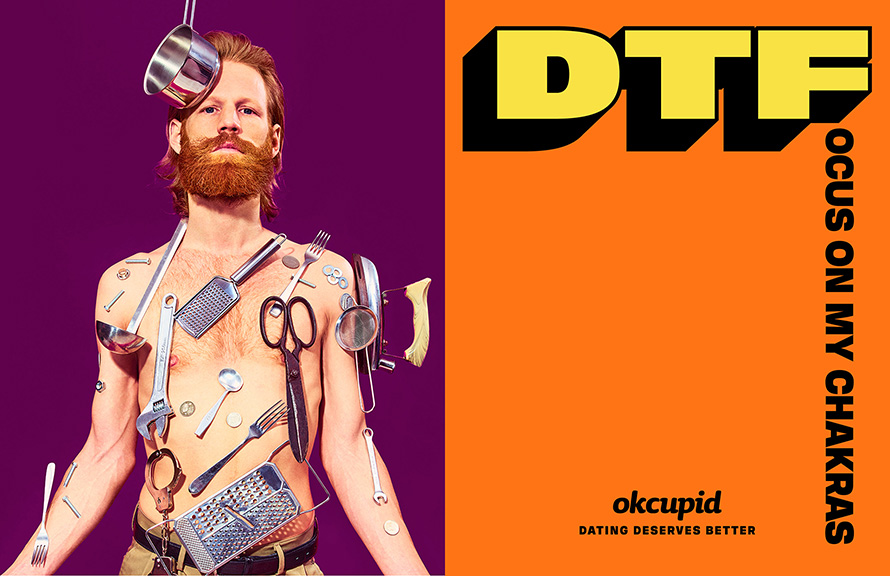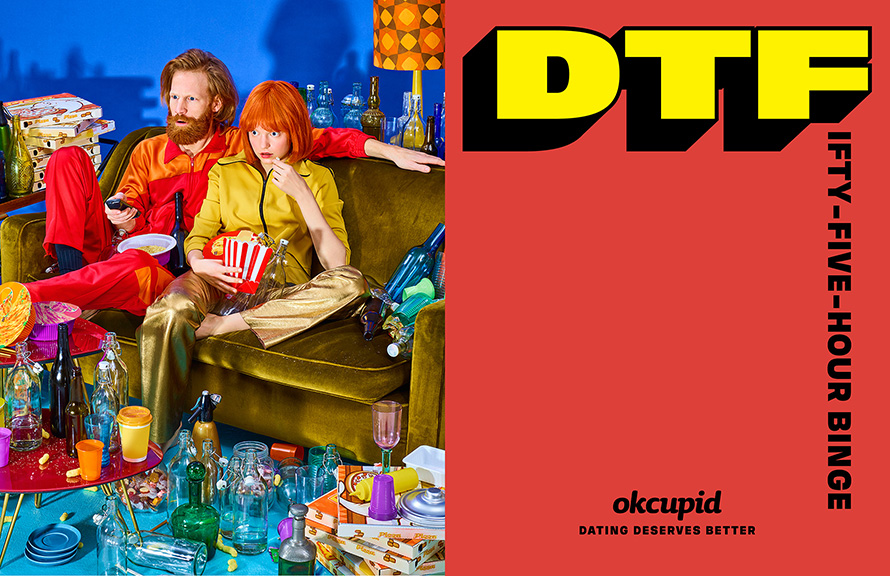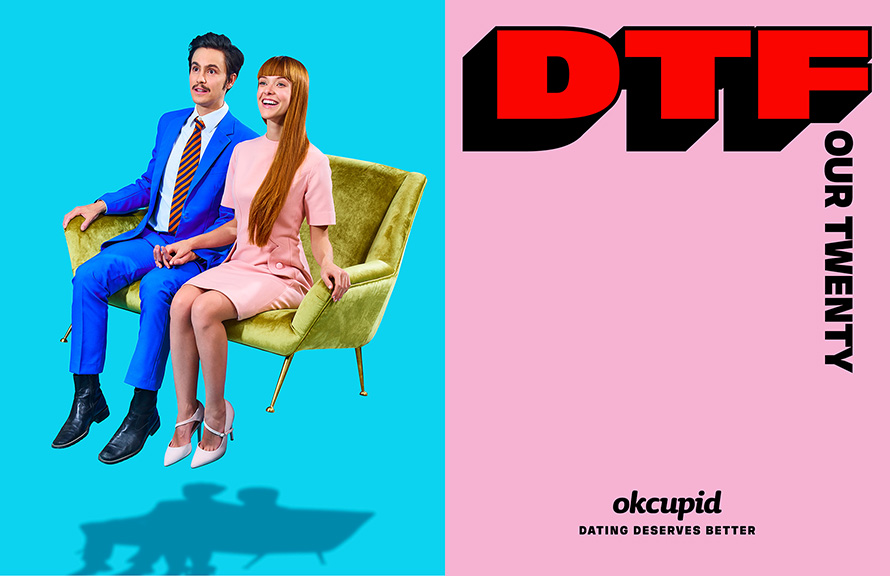 In terms of craft, the W+K creatives said the campaign is meant to feel playful and positive, as a counterpoint to where so much of the dating scene is headed.
"We set out to really explore what happened to chivalry and courtship and how modern-day dating seemed to be on a bad trajectory," says copywriter Ian Hart. "When we say dating deserves better, what we're really saying is people who date deserve better. Because I mean, they really do. Modern dating treats emotions like a disposable commodity. Anyone who's been single knows this. It's an aspiration to treating people like people."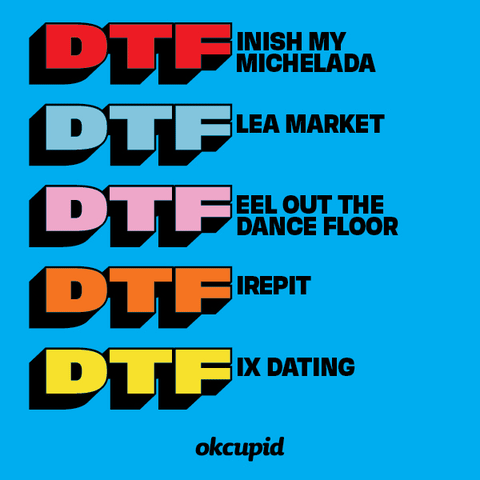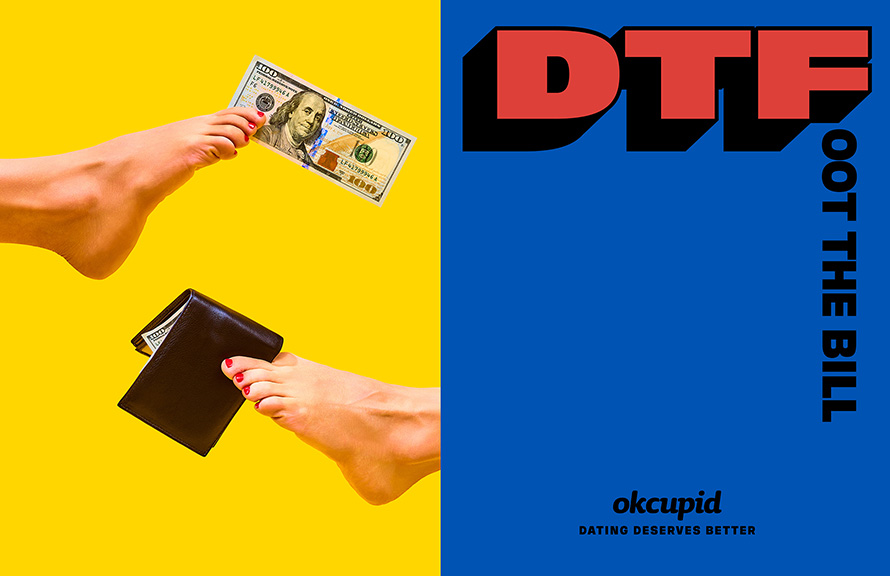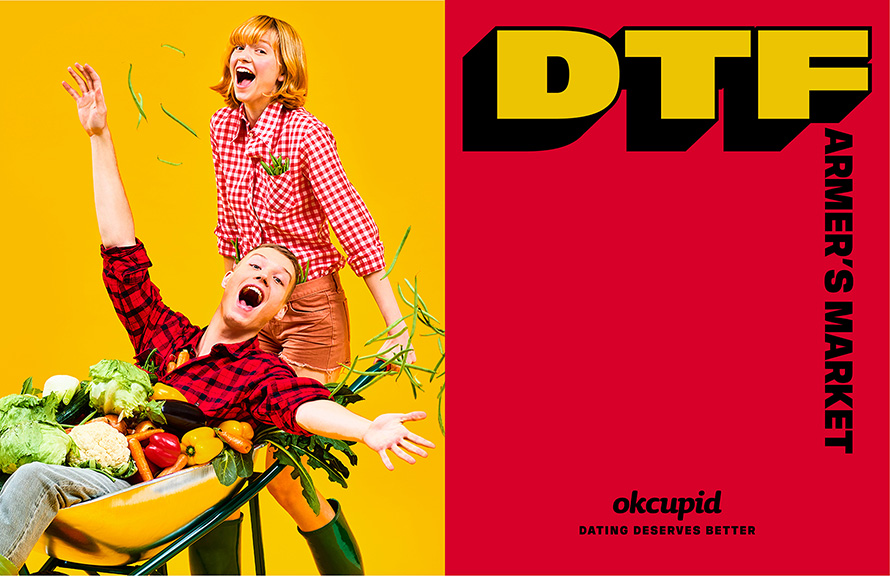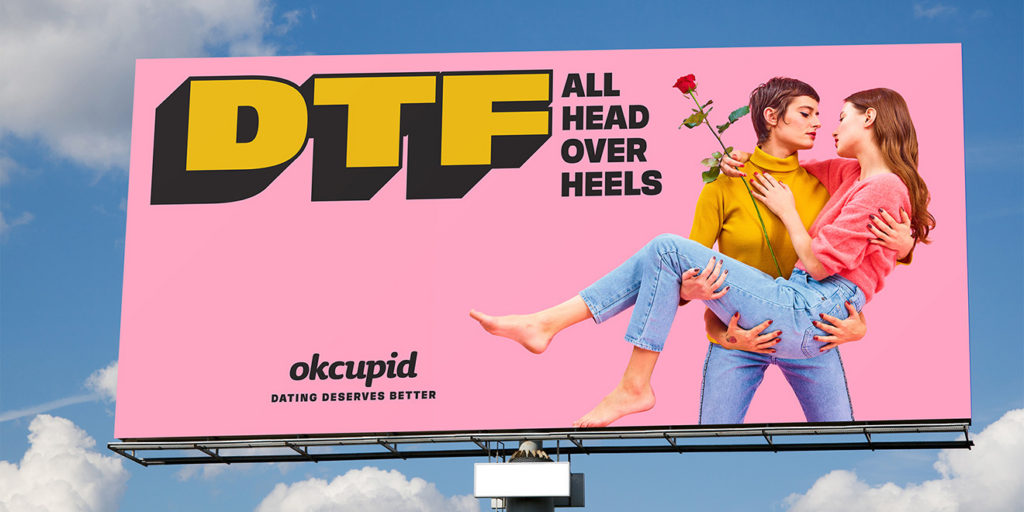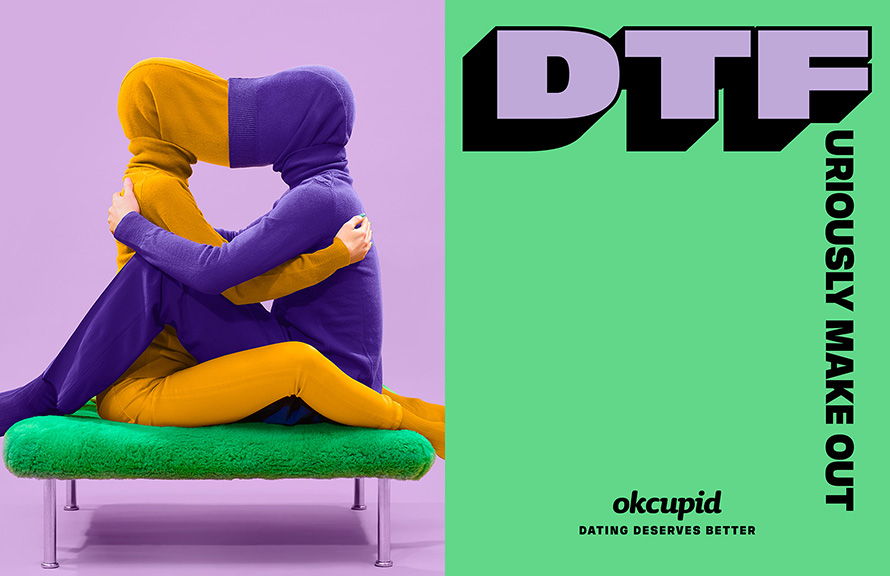 OkCupid aims to achieve substance and depth through the app's features. It asks users more than a dozen questions while setting up a profile and recently launched OkCupid Discovery, which lets users search by passions and interests. It aims to achieve relevance through the brand voice, having found traction by leaning into politics over the past year—including adding a "Trump Filter" to its list of questions.
"The response to this blew us away, and most importantly, signaled how important it was for people to be able to talk politics in dating," Hobley says. "We do this better than anyone, and regularly add political questions into the OkCupid experience."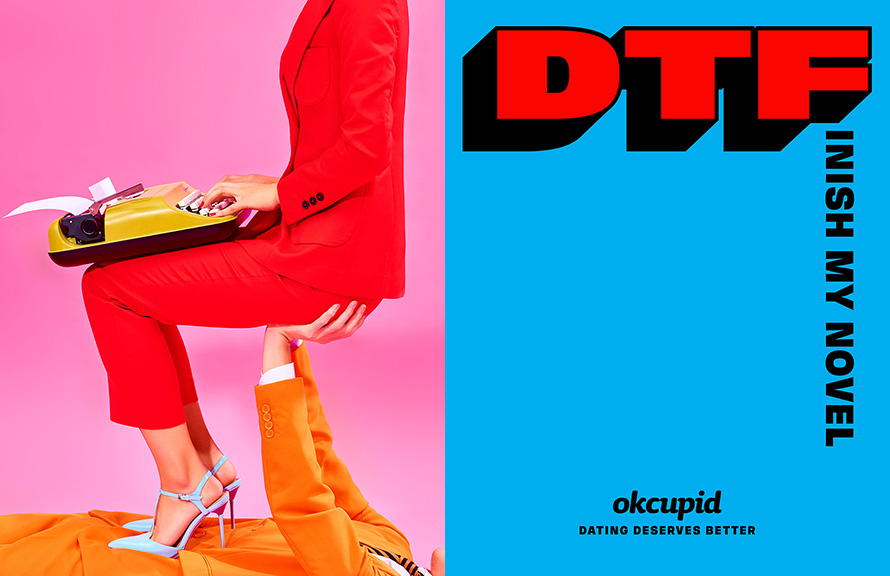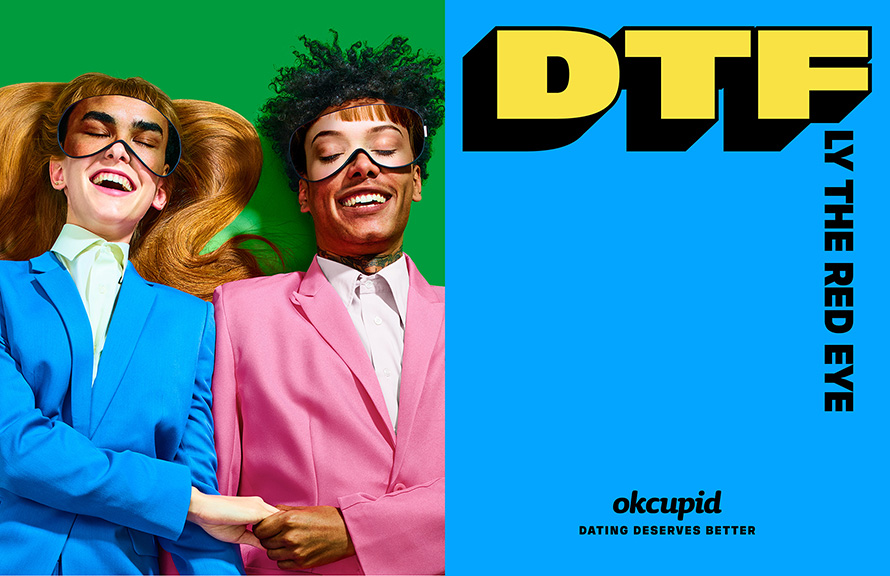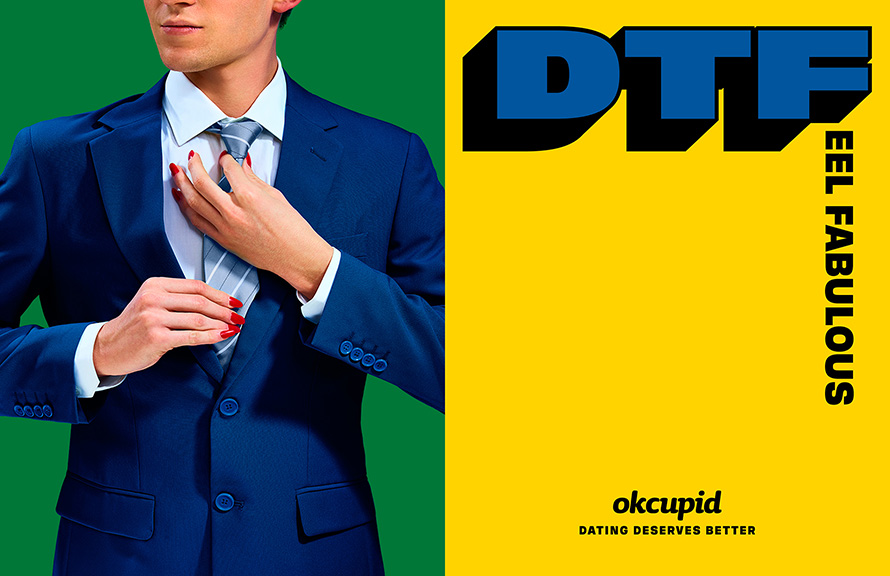 CREDITS
Client: OkCupid
Melissa Hobley – Chief Marketing Officer
Bernadette Libonate – Senior Marketing Manager
Devin Colleran – Brand Manager
Dana Davis – Communications / Graphic Designer
​​
Agency: Wieden + Kennedy New York
Executive Creative Directors – Karl Lieberman
Copywriter – Ian Hart
Art Director – Jessica Shriftman
Art Director (social / banners) – Nathan Wigglesworth
Head of Art Buying – Deb Rosen
Senior Art Buyer – Ali Berk
Strategist – Brian Ritter
Social Director – Jessica Breslin
Account Team – Jacqueline Steele, Sydney Gayner
Head of Business Affairs – Patrick ODonoghue
Business Affairs – Carla Curry
Traffic Coordinator – Andy Hume
Project Manager – Ava Rant
Head of Creative Services – Chris Whalley
Studio – Laura Paulino, Leigh Ann Dykes, David Niblick, Nathan Delessandro, Jill Kearton, Napoleon Nicdao
Design – Justin Flood, Robert Engvall, Frank DeRose, James Hughes, Meredith Marino
Joint / Motion Graphics
Producer – Brian Schimpf
Motion Graphics ​- ​ Damian Riddell
Photographers and Production Team
Photographers – Maurizio Cattelan & Pierpaolo Ferrari
Production Company – Pro Service Production
Executive Producer – Federico Delle Piane
Production Coordinator – Giulia Venturini
Production Assistant – Stefania Biliato
Digital Capture – Silvano Banfi
RetoucherBenedetta Ferrari
Art Director – Micol Talso
Set Designer – Michela Natella
Wardrobe Stylist – Elisa Zaccanti
Hair Stylist – Gabriele Trezzi
Makeup Stylist – Lorenzo Zavatta
Videographer – Caterina Vigano`